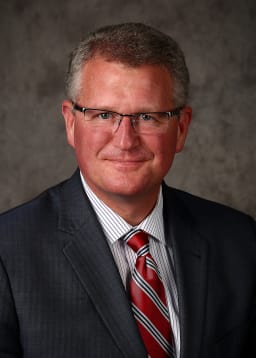 Dr. Mark Hansen, Superintendent of the School District of Elmbrook, has been selected as the 2021 Advocate of the Year Award recipient by the Waukesha County Business Alliance (WCBA). Mark has served as Superintendent of Elmbrook Schools since 2012 and during his tenure has helped grow district enrollment, created new partnerships and alliances to control healthcare costs, and added four-year-old kindergarten to provide all children and families with access to high-quality early childhood learning opportunities. Additionally, Mark has been instrumental in developing and implementing the District's LAUNCH program for Juniors and Seniors, connecting students with career-based learning experiences.
"Each year the Waukesha County Advocate of the Year Award celebrates an individual who has demonstrated incredible dedication to making Waukesha County a vibrant community," said Suzanne Kelley. President & CEO of the Alliance. "We congratulate Dr. Hansen on his efforts and are proud to honor him."

Dr. Hansen will receive his award at the WCBA's Annual Meeting. To read more about Dr. Hansen's award, please click here.